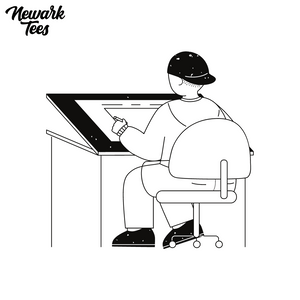 Design Credits
Not sure if your design or artwork is production-ready? 
Design Credits provide access to Newark Tees designers.
Purchase a Design Credit to have a Newark Tees designer check it and help get your art file in shape for screen printing or embroidery. Order as many or as few as you need.
Artwork Hand Off ($40 = 1 Art File): Have a Newark Tees designer review and prepare for artwork production

Vector Tracing ($40 = 1 Art File): Turn your fuzzy art files into clean print-ready vector artwork in 24 hours or less

Embroidery Digitizing ($40 = 1 Art File): Convert your art files into quality embroidery files for stitching on embroidery machines

Mockup Design ($40 = 1 Art File): Get a realistic and visually appealing mockup of your T-shirt design

Logo Design ($200 = 1 Art File): Get a custom logo design made for your business by a Newark Tees designer
Should you place a custom screen printing or embroidery order with us, we will apply the Design Credit amount toward your order. Note, this does not apply to Logo Design.
Note: Design Credits are solely for purchasing goods and services from the Newark Tees Printing Co. or The Newark Tees Store and only apply if we use the same artwork for the custom order.